Are your forms converting well for you? If not, then you need to use smart conversational forms by WPForms. In this post, you will learn how to make conversational forms using WPForms easily.
Why Do You Need Conversational Forms?
If you are an iPhone user, you would have used Siri. They interact with you like human beings and learn what you wanted from them.
Conversational forms also work like them. They interact with you and give you the exact results.
This helps to increase interaction and reduce cart abandonment.
The team behind the plugin is another reason.
If you know WPBeginner, and OptinMonster then you should try WPForms without any hesitation.
TypeForms Vs WPForms
With Typeform, you can easily create a conversational form. You need to install the plugin on your website to add the form.
If you wish to add another form, you would need to add another plugin to your website. This increases the load on your website and makes it slower.
On the other hand, WPForms allows you to add this feature to your website with just an addon.
Yes. You got that correct.
You just need to install the Conversational Forms Addon
You can find more details about this form builder in WPforms Review.
Conversational Forms By WPForms
Conversational Forms by WPForms is an addon created to boost form conversions.
Unlike the traditional form which lists all the questions, users will be answering the questions one by one in Conversational Forms.
You can use conversational forms to create the below types of forms:
User registration form
Donation forms
Event planning forms
Survey forms
Job application forms
Client feedback forms
Also, you can turn your existing forms into conversational forms with just a few clicks.
Click here to check the demo of conversational forms
Pricing
Conversational forms addon is available on WPForms Pro or Elite plan. The Pro plan costs $399/year and the Elite plan costs $599/year.
Currently, they are running a discount offer. You can get WPForms with 50% off using the coupon SAVE50.
You have a 100% Money Back Guarantee for 14 days. If you are not satisfied, you can request a refund and it will be processed without any questions.
When you buy WPForms Pro or higher plans, you will not only get "Conversational Forms" but you will get all the add-ons currently they have.
How To make Conversational Forms Using WPForms?
Let me guide you step by step on how to make conversational forms using WPForms.
Step 1:
Install and activate the WPForms. Navigate to WPForms> Add-ons. Then go to Settings -> Conversational Forms. Put a tick on Enable Conversational Form Mode.

Step 2:
Add a Conversational Form Title. The title you are entering here will appear on the top of the form while displaying it to the visitor.
The Message field is optional. The message you add here will appear below the title on the front end.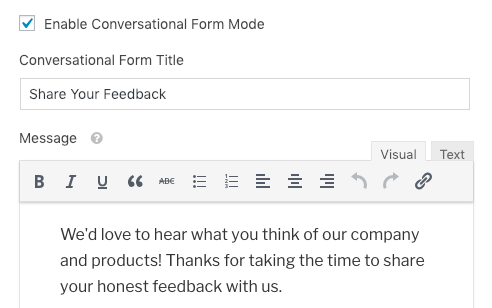 Step 3:
The Permalink is the URL where your form will appear. Remember to add a unique Permalink for the form to appear.
Step 4:
It is a wise step to add your brand/product image to the Header Logo. This will make the form look authentic and shows your brand value.
For a better appearance, the maximum logo Height is 125px and the maximum logo width is 800px.
Step 5:
Do you want to show or hide WPForms branding?
The default mode will show a small WPForms logo in the footer of your conversational forms. You can change it as you like.
To hide the branding, you need to check the box labeled "Hide WPForms Branding".
Step 6:
With the color options, you can change the color of the background page, and the start/submit button.
Step 7:
Choose the percentage or proportion progress bar option to display on the form
Once all the options are chosen, click on save and embed the form.
Conclusion
Building your unique conversational form is the only way to increase conversion and reduce the form abandonment rate.
Conversational forms by WPForms will turn your old boring forms into more conversational ones quickly.